Login to
Market Insight

Account

Your Market Insight account gives you access to the tools that we offer our customers including our
Technical Studies & Sentiment for your accounts.

Don't you have a Market Insight account? With a few easy steps you can easily register to Market Insight

Register
Thank you!
Welcome to Market Insight family!
You have succesfully completed the registration. We will send you an e-mail to give you some instructions and our Terms and Conditions!
Our account representatives will be contacting you as soon as possible. If you have any further questions please do not hesitate to
mail us via support@gkfx.com
News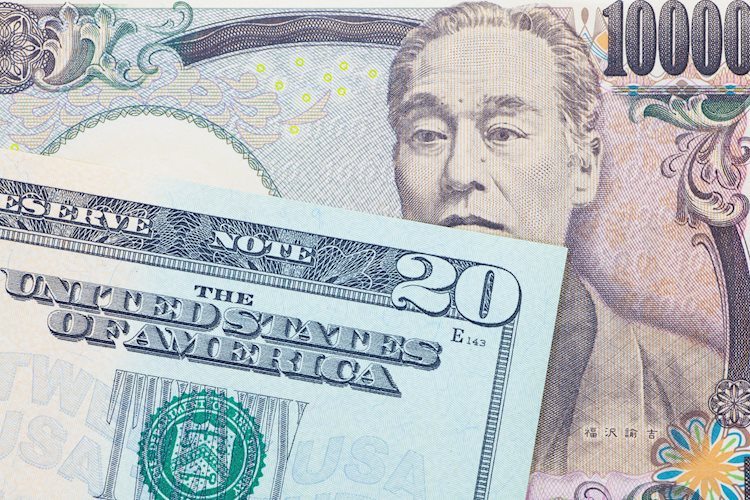 The USD/JPY extends its one-and-a-half month rally, advances 0.47% during the New York session, trading at 114.21 at the time of writing. As portrayed

| 15/10/2021 21:03
USD/JPY soars during the week, despite US dollar weakness across the board.
Rising US T-bond yields underpins the USD/JPY pair.
US Retail Sales upwardly surprised, rose by 0.7%, more than expectations.
The USD/JPY extends its one-and-a-half month rally, advances 0.47% during the New York session, trading at 114.21 at the time of writing. As portrayed by US equity indexes rising between 0.46% and 1.12%, positive market sentiment in the financial markets weighs on the Japanese yen.
Additionally, the US T-bond yields, which correlate positively with the USD/JPY pair, are climbing. The 10-year US Treasury yield is up to six basis points, sitting at 1.577%, boosts the greenback against the yen.
Meanwhile, upbeat US macroeconomic data lend a hand to the greenback. Surprisingly, US Retail Sales for September rose by 0.7%, higher than the 0.2% contraction foreseen by economists. Excluding autos and gas, sales expanded by 0.7%, better than the 0.5% in the previous month.
Furthermore, the University of Michigan Consumer Sentiment Index reading was 71.4, worse than the 72.8 estimated by investors, the second-lowest reading since 2011, as consumers grew more concerned about current conditions and the economic outlook.
USD/JPY Price Forecast: Technical outlook
The USD/JPY had witnessed a 400 pip rally since October 4, when it was trading around 110.50. The Relative Strenght Index (RSI) at 75, depicts that the upward move is overextended, as the RSI showed oversold conditions since October 11. On that same day, the 50-day moving average (DMA) crossed over the 100-DMA, giving a boost to the pair, as the correct order for moving averages in an uptrend is the shorter-time frames moving average, over the longer time frame ones.
That said, the USD/JPY first resistance level is October 4, 2018, high at 114.54, which is a crucial price level, unsuccessfully tested four times in four years. A break above the latter can clear the way for further gains, exposing key resistance levels like January 27, 2017, high at 115.37, followed by January 9, 2017, high at 117.52.
On the other hand, failure at 114.00 could open the door for a leg-down in confluence with the current RSI oversold conditions. The first of the critical support levels to be tested would be the October 13 high at 113.79, followed by the October 12 low at 112.99, and then the October 8 high at 112.24.
KEY ADDITIONAL LEVELS TO WATCH
Popular News
Japan Machine Tool Orders (YoY): 64% (November) vs previous 81.5%

Japan Machine Tool Orders (YoY): 64% (November) vs previous 81.5%

| 09/12/2021 06:25

USD/ZAR Price Analysis: Further downside hinges on $15.65 break

USD/ZAR struggles to keep the corrective pullback from a three-week low of around $15.72 during early Thursday morning in Europe. The South African cu

| 09/12/2021 05:55

GBP/USD trades with modest gains above 1.3200 mark, lacks follow-through

The GBP/USD pair held steady above the 1.3200 mark through the Asian session, though the uptick lacked bullish conviction amid fresh COVID-19 jitters.

| 09/12/2021 05:52

USD/CAD: Wednesday's Doji, firmer USD direct bulls to 1.2700 despite higher oil prices

USD/CAD keeps the post-BOC recovery around 1.2670, up 0.13% intraday, while heading into Thursday's European session. The loonie pair dropped to the l

| 09/12/2021 05:43

EUR/GBP Price Analysis: Eases from 10-week top but 200-DMA defends bulls

EUR/GBP stays pressured around intraday low surrounding 0.8580, consolidating the biggest daily gains since late September. The cross-currency pair cr

| 09/12/2021 05:14

EUR/USD stays defensive above 1.1300 as Omicron, inflation concerns loom

EUR/USD bounces off intraday low to pare daily losses around 1.1335, down 0.12% near the weekly top ahead of Thursday's European session. The major cu

| 09/12/2021 04:55

USD/CHF Price Analysis: Looks to monthly support around 0.9200

USD/CHF drops back to 0.9200 after consolidating the two-day losses during early Thursday in Asia. The Swiss currency (CHF) pair remains below the key

| 09/12/2021 04:33

Asian Stock Market: Grinds higher as Omicron, China flash mixed signals

Asian equities remain mostly firmer as stimulus hopes battle virus woes heading into Thursday's European session. To portray the mood, the MSCI's inde

| 09/12/2021 04:19

USD/TRY Price Analysis: Remains side-lined, sellers eye 13.45

USD/TRY is reversing Wednesday's rebound, as the Turkish lira finds its feet after Turkey's President Tayyip Erdogan's comments-led sell-off. Erdogan

| 09/12/2021 03:56

USD/INR Price Analysis: Indian rupee sellers ignore Wednesday's Doji, 75.65 eyed

USD/INR reverses the previous day's pullback from a two-month low, mildly bid near 75.45 during early European morning on Thursday. In doing so, the I

| 09/12/2021 03:53

USD/CNY: Two-way volatility in the yuan unchanged despite fast appreciation – China Press

Two-way volatility in the Chinese yuan has not changed despite the currency's rise to three-year highs amid shifts in global monetary policy stances,

| 09/12/2021 03:30

Gold Price Forecast: XAU/USD to remain choppy below $1,800 ahead of US inflation – Confluence Detector

Gold price is correcting from weekly tops, as global stocks and Treasury yields rebound on easing Omicron fears. Further, hopes that the Fed will like

| 09/12/2021 03:18

US Dollar Index regains 96.00 mark as coronavirus, Fed chatters favor yields

US Dollar Index (DXY) defends 96.00 during a corrective pullback from the weekly low amid early Thursday. The greenback gauge dropped the most in a fo

| 09/12/2021 02:46

Fitch: Inflation is prompting global monetary policy normalisation

In its latest Global Economic Outlook (GEO), published Thursday, Fitch Ratings highlighted how the sustained rise in inflation has prompted the global

| 09/12/2021 02:42

Japan to swiftly consider steps on capital gains tax reform – Reuters

Japan's ruling Liberal Democratic Party (LDP) tax panel approved the FY2022/23 tax reform plan on Thursday, per Reuters. After seeing the draft plan,

| 09/12/2021 02:33

Silver Price Analysis: XAG/USD takes offers between 10-DMA and 78.6% Fibo.

Silver (XAG/USD) retreats to $22.40, down 0.23% intraday, as sellers keep reins during early Thursday. The bright metal's weakness could be linked to

| 09/12/2021 02:29

NZD/USD retreats to 0.6800 despite firmer China inflation

NZD/USD struggles to cheer upbeat China inflation figures, down 0.16% intraday to re-test 0.6805 level during early Thursday. Although firmer data fro

| 09/12/2021 02:18

GBP/JPY remains pressured around 150.00 amid Omicron woes, impending bear cross

GBP/JPY is hovering around 150.00, on the defensive after a volatile trading session witnessed on Wednesday. The cross fell as low as 149.35 before re

| 09/12/2021 02:15

AUD/JPY Price Analysis: Battles five-week-old hurdle on upbeat China inflation data

AUD/JPY wavers around 81.50, despite the latest rebound from intraday low, during early Thursday. The risk barometer pair recently benefited from upbe

| 09/12/2021 01:59

Iran diplomacy under the spotlight as US goes hard on military options

''US and Israeli defence chiefs are expected on Thursday to discuss possible military exercises that would prepare for a worst-case scenario to destro

| 09/12/2021 01:54

AUD/USD pares intraday losses below 0.7200 on China inflation but yields test bulls

AUD/USD picks up bids to 0.7167, bouncing off intraday low, while consolidating the daily losses to 0.13% during early Thursday. The Aussie pair's lat

| 09/12/2021 01:41

Chinese CPI rises at fastest pace since August 2020

Both the Consumer Price Index and the Producer Price Indexis that are released by the National Bureau of Statistics of China have been released as fol

| 09/12/2021 01:34

AUD/USD Price Analysis: Bullish momentum in play, bulls to buy the dip

Ahead of the last key events for the pair this week, including Chinese inflation data today and US Consumer Price Index on Friday, AUD/USD is correcti

| 09/12/2021 01:06

US inflation expectations print four-day rebound from early October lows

US inflation expectations, as measured by the 10-year breakeven inflation rate per the St. Louis Federal Reserve (FRED) data, rise to the highest leve

| 09/12/2021 01:03

USD/JPY approaches 114.00 as coronavirus propels yields

USD/JPY picks up bids to refresh intraday top around 113.80 as Tokyo opens for Thursday. The yen pair prints a four-day uptrend as yields stays firmer

| 09/12/2021 00:46

USD/CAD bulls steping in and eye correction towards 61.8% golden ratio

USD/CAD popped and stopped overnight as the Bank of Canada left interest rates unchanged although signalled concerns over elevated inflation that coul

| 09/12/2021 00:32

Fed to lift rates in Q3 2022, but risk it comes sooner – Reuters Poll

"The US Federal Reserve will raise rates in the third quarter of next year, earlier than expected a month ago, according to economists in a Reuters po

| 09/12/2021 00:11

WTI Price Analysis: Cup-and-handle bullish formation in play around $72.50

WTI crude oil bulls attack key upside hurdle around $72.50 during Thursday's Asian session. The oil benchmark rose for the consecutive three days last

| 09/12/2021 00:08

United Kingdom RICS Housing Price Balance registered at 71% above expectations (65%) in November

United Kingdom RICS Housing Price Balance registered at 71% above expectations (65%) in November

| 09/12/2021 00:02

Japan BSI Large Manufacturing Conditions Index (QoQ): 7.9 (3Q) vs 7

Japan BSI Large Manufacturing Conditions Index (QoQ): 7.9 (3Q) vs 7

| 08/12/2021 23:52
Show More Popular News
RISK WARNING
The information provided herein is for general informational and educational purposes only. It is not intended and should not be construed to constitute advice.
If such information is acted upon by you then this should be solely at your discretion and GKFX will not be held accountable in any way.
ForexF
IndicesI
CommoditiesC