Login to
Market Insight

Account

Your Market Insight account gives you access to the tools that we offer our customers including our
Technical Studies & Sentiment for your accounts.

Don't you have a Market Insight account? With a few easy steps you can easily register to Market Insight

Register
Thank you!
Welcome to Market Insight family!
You have succesfully completed the registration. We will send you an e-mail to give you some instructions and our Terms and Conditions!
Our account representatives will be contacting you as soon as possible. If you have any further questions please do not hesitate to
mail us via support@gkfx.com
News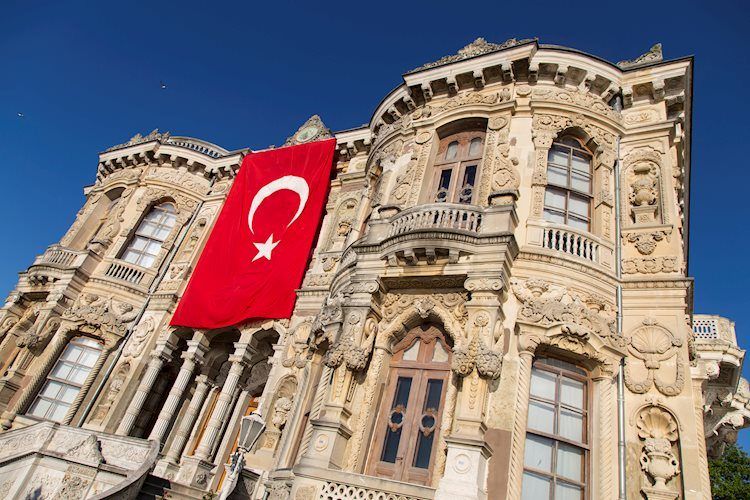 According to analysts at Rabobank, it would be perfectly reasonable for the Turkish central bank to look for the earliest opportunity to start lowerin

| 12/06/2019 10:58

According to analysts at Rabobank, it would be perfectly reasonable for the Turkish central bank to look for the earliest opportunity to start lowering its high interest rate of 24% to ease the burden on the struggling economy.

Key Quotes

"Turkey emerged from recession in Q1, the outlook remains challenging due to persistently low confidence amongst households and corporates. Moreover, inflation continues to decelerate on the back of the strong disinflationary impact of weak consumption. However, it is too early to expect the CBRT to ease its monetary policy. The main reason is insufficient stability of the Turkish lira as observed since the end of March."

"A volatile currency is a source of uncertainty for companies and consumers whose confidence in the lira remains low as reflected in rising FX deposits. Inflationary risk will not fully diminish and a double dip recession cannot be excluded unless sentiment towards the lira improves markedly and in a sustainable way."

"As such, the CBRT to keep its policy rate unchanged at 24%."
Popular News
S&P 500 Price Analysis: Key levels to watch in the week ahead – Confluence Detector

The S&P 500 Index closed the holiday-shortened week up over 3%, although off the three-week high of 3,165.81. The stocks surged on vaccine hopes and r

| 05/07/2020 08:02

Colombia Consumer Price Index (YoY) came in at 2.19% below forecasts (2.49%) in June

Colombia Consumer Price Index (YoY) came in at 2.19% below forecasts (2.49%) in June

| 05/07/2020 00:00

Colombia Consumer Price Index (MoM) came in at -0.38% below forecasts (-0.09%) in June

Colombia Consumer Price Index (MoM) came in at -0.38% below forecasts (-0.09%) in June

| 05/07/2020 00:00

ECB's Lagarde warns of disinflation as coronavirus crisis transforms economy

Speaking about alternative growth models at a webinar on Saturday, the European Central Bank (ECB) President Christine Lagarde said that a falling tre

| 04/07/2020 14:50

Gold Price Analysis: XAU/USD set to test 7-year highs amid lack of healthy resistance levels

Following consolidation in a $5 range on holiday-thinned Friday, Gold prices (XAU/USD) are poised for another leg higher after falling off the seven-y

| 04/07/2020 06:40

NZD/USD Price Analysis: Could we see an extension of the trend next week?

Despite very thin volume on Friday (US participants are off for Independence day) NZD/USD has moved higher by 0.39%. NZD/USD is a currency that perfor

| 03/07/2020 21:37

USD/JPY Price Analysis: The pair is stuck between 107.33 and 108.00 for now

USD/JPY has traded in a very thin range on Friday as volumes remain light to a US holiday. Looking at the chart below it is clear to see the pair is s

| 03/07/2020 20:19

USD/MXN to move toward 24.50 by the end of July – Rabobank

Analysts from Rabobank see the USD/MXN pair moving towards 24.50 by the end of July. They point out that seasonality shows a mixed bag for July but th

| 03/07/2020 20:07

GBP/USD crawls up to the upper range of 1.2400 to consolidate weekly gains

The pound is set to close its best performance of the last four weeks with a 1.2% weekly gain against the US dollar. The cable has crawled up to 1.247

| 03/07/2020 19:58

GBP/USD: UK government unlikely to impress the markets to fuel GBP buying – MUFG

Analysts at MUFG Bank argue the British pound will likely underperform while risk may hold up over the short-term. They recommend keeping the short GB

| 03/07/2020 19:58

USD/CHF Price Analysis: It has been a bearish week but the bears did not manage to take out the 0.9376 support

The daily chart below shows a clear bearish trend in USD/CHF. The price is now stuck near the channel low but there is a potential breakout toward the

| 03/07/2020 19:43

XAU/USD: The key for gold are yields, not USD – HSCB

Analysts at HSBC believe that the near-term driver for gold is US Treasury yields. They consider COVID-19 concerns, monetary and fiscal stimulus suppo

| 03/07/2020 19:41

USD/CAD steadies around 1.3560, looks to snap three-week winning streak

The USD/CAD pair is moving sideways below 1.3600 for the third straight day on Friday as trading conditions remain thin due to the Independence Day ho

| 03/07/2020 19:08

US Dollar Index recovery attempt from 96.80 stalls below 97.35

Greenback's rebound from one-week lows at 96.80 is lacking follow-through above the 97.00 level and the Index has stalled below 97.35. The USD recover

| 03/07/2020 19:02

USD/ZAR: Global recovery to encourage a stronger rand but domestic debt situation remains a concern – MUFG

The South African rand recovered against the US dollar in June. Analysts at MUFG Bank expect the currency to rand to continue to rise versus the green

| 03/07/2020 18:43

EUR/USD sideways near 1.1250, ends week flat

The EUR/USD pair is about to end the week hovering around 1.1240, near the same level it had seven days ago. Price action was limited on Friday due to

| 03/07/2020 17:32

EUR/GBP seen at 0.92 on a one-month view – Rabobank

The euro has pulled back against the pound this week to put an end to the three-week rally seen earlier in June. The Rabobank FX Analysis Team, howeve

| 03/07/2020 18:13

AUD/USD consolidates weekly gains near 0.6940 in choppy day

The upbeat macroeconomic data releases from Australia and China this week helped the AUD gather strength against its rivals. After starting the week n

| 03/07/2020 18:10

GBP/JPY remains flat at 134.00 after rejection from 134.70

The pound has remained trading sideways around 134.00 on Monday, with bearish attempts contained at 133.70 after Thursday's reversal from two-week hig

| 03/07/2020 17:59

Gold Price Analysis: There is a bearish signal on the 4-hour chart

Price action has been slow on Friday due to the bank holiday in the US as the nation celebrates independence day. This week has been an interesting on

| 03/07/2020 17:34

UK PM Johnson: Won't hesitate to reimpose restrictions if virus runs out of control

British Prime Minister Boris Johnson said on Friday that he wants continued restrictions on closed sectors of the economy to be lifted as soon as poss

| 03/07/2020 17:18

EUR/CHF Price Analysis: Testing support at the 100-DMA, at 1.0610

The euro is trading sideways on Friday, consolidating losses after a 2.5% sell-off in the last four weeks, that has sent the pair to test support at t

| 03/07/2020 17:00

USD/CAD: "Risk-on, risk-off" dynamic will remain key – Rabobank

Analysts from Rabobank forecast USD/CAD at 1.38 in one month, at 1.42 in three months and at 1.40 in nine months. They point out that crude oil prices

| 03/07/2020 16:47

NZD/USD: RBNZ stance will act to limit NZD upside – MUFG

Analysts at MUFG Bank see the NZD/USD pair trading at 0.6300 at the third quarter, at 0.64 in the fourth and at 0.65 in the first quarter of 2021. The

| 03/07/2020 16:35

Coronavirus update US: Arizona coronavirus cases rise by 4,433 on Friday to 91,858

The data published by Arizona's state health department revealed that the number of confirmed COVID-19 cases increased by 4,433 on Friday to a total o

| 03/07/2020 16:29

WTI tests prices below $40 on its pullback from $40.60 highs

Front-month WTI futures are trading lower on Friday, testing prices below $40 after rejection at $40.60 area on Thursday. Oil prices are losing ground

| 03/07/2020 16:26

AUD/NZD Price Analysis: Risks tilted to the downside

The AUD/NZD is about to post the lowest weekly close since early May. Over the week, the cross approached the 1.0600 area and rebounded while on the u

| 03/07/2020 15:25

WHO's Ryan: Unwise to predict when a COVID-19 vaccine could be rolled out

World Health Organization (WHO) chief Tedros Adhanom Ghebreyesus announced on Monday that they are expecting the interim results from the solidarity t

| 03/07/2020 16:23

Fitch: Policy interest rate easing cycle has neared its end in Turkey

The main impact of coronavirus on Turkey's sovereign credit profile is through external financing risks, Fitch Ratings said in a report published on F

| 03/07/2020 16:11

UK in talks to join EU's coronavirus vaccine scheme – Financial Times

The United Kingdom (UK) is in talks with the European Union (EU) to join the EU's coronavirus scheme, the Financial Times reported on Friday, citing U

| 03/07/2020 16:02
Show More Popular News
RISK WARNING
The information provided herein is for general informational and educational purposes only. It is not intended and should not be construed to constitute advice.
If such information is acted upon by you then this should be solely at your discretion and GKFX will not be held accountable in any way.
ForexF
IndicesI
CommoditiesC