Login to
Market Insight

Account

Your Market Insight account gives you access to the tools that we offer our customers including our
Technical Studies & Sentiment for your accounts.

Don't you have a Market Insight account? With a few easy steps you can easily register to Market Insight

Register
Thank you!
Welcome to Market Insight family!
You have succesfully completed the registration. We will send you an e-mail to give you some instructions and our Terms and Conditions!
Our account representatives will be contacting you as soon as possible. If you have any further questions please do not hesitate to
mail us via support@gkfx.com
News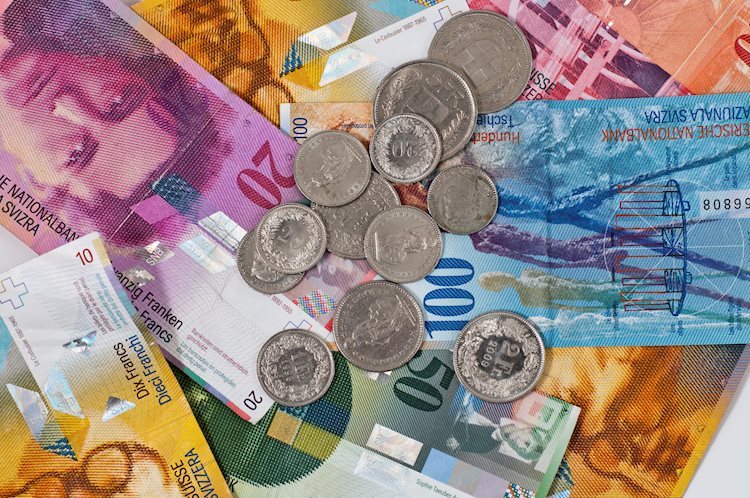 The USD/CHF pair refreshed daily lows, around the 0.9965 region in reaction to dismal US regional manufacturing index, albeit quickly recovered few pi

| 17/06/2019 14:46
Dismal US data prompts some USD weakness and exert fresh pressure.
The downside remains cushioned ahead of Wednesday's FOMC decision.
The USD/CHF pair refreshed daily lows, around the 0.9965 region in reaction to dismal US regional manufacturing index, albeit quickly recovered few pips thereafter.
The US Dollar failed to capitalize on Friday's mostly upbeat US retail sales data-led recovery move and remained depressed on the first day of a new trading week, which was seen as one of the key factors that kept a lid on the pair's initial uptick to two-week tops.
The greenback lost some additional ground amid an intraday turnaround in the US Treasury bond yields following the latest disappointment from the Empire State Manufacturing Index, which collapsed to -8.6 in June and marked its lowest level since Oct. 2016.
Adding to this, persistent worries over a further escalation in trade tensions between the world's two largest economies and heightened geopolitical risks in the Middle East further benefitted the Swiss Franc's relative safe-haven status and collaborated to the intraday slide.
The downside, however, remained cushioned, at least for the time being, as investors now seemed reluctant to place any aggressive bets ahead of the next big event risk - the highly anticipated FOMC monetary policy update, scheduled to be announced on Wednesday.
The US central bank is widely expected to leave interest rates unchanged and hence, the key focus will be on the updated economic/interest rate projections, which should play an important role in determining the pair's next leg of a directional move.
Technical levels to watch
Popular News
Gold stays below 21-day EMA as buyers await fresh trade/political clues

Having failed to cross 21-day Exponential Moving Average (EMA) during its Monday's recovery, Gold prices pull back to $1,492.

| 15/10/2019 00:22

When are the RBA minutes and how might they affect AUD/USD?

The Reserve Bank of Australia (RBA) is up for releasing a minute statement of its early-October monetary policy meeting at 00:30 GMT on Tuesday.

| 14/10/2019 23:54

AUD/USD: Above 2-DMA, awaiting key data this week, commencing today

AUD/USD is steady in early Asia following thin trade overnight with it being Columbus day. There was quite a lot for markets to digest overnight but n

| 14/10/2019 23:44

EUR/JPY technical analysis: 100-day EMA, 120.00/05 raise doubts on bullish MACD

EUR/JPY stays below 100-day EMA and key horizontal resistance while taking rounds to 119.52 during the early Asian session on Tuesday.

| 14/10/2019 23:33

NZD/USD stabilizes around 0.6300 ahead of China inflation data

Despite no fresh clues that restore the confidence of the US-China trade watchers, NZD/USD retraces to 0.6300 amid very early Tuesday morning in Asia.

| 14/10/2019 23:14

New Zealand Visitor Arrivals (YoY) registered at 1.8%, below expectations (2.1%) in August

New Zealand Visitor Arrivals (YoY) registered at 1.8%, below expectations (2.1%) in August

| 14/10/2019 21:45

US Defence Secretary Esper: Will be meeting with NATO allies next week…

US Defence Secretary Mark Esper recently crossed wires while signaling further hardships for Turkey during next week when he is planning to meet NATO allies.

| 14/10/2019 22:44

GBP/USD recovers to 1.2630 amid fresh hopes of a Brexit deal

With the Daily Telegraph releasing reports of the potential solution to Northern Irish border problem, GBP/USD rises to 1.2630 at the start of Tuesday.

| 14/10/2019 22:33

EUR/USD technical analysis: Fiber enters the Asian session above the 1.1000 handle

| 14/10/2019 22:15

DJIA dropped 29 points on trade deal pessimism

It was a U.S. Columbus Day holiday on Wall Street and action was limited. However, benchmarks ended lower on prospects of the so-called 'Phase-1' deal

| 14/10/2019 22:08

Brexit: A Brexit deal appears to be taking shape - Telegraph

A Brexit deal appears to be taking shape according to an article in the Telegraph recently published. The article stated that sources on both sides of

| 14/10/2019 20:56

Forex Today: speculative interest turned cautious

Here is what you need to know Tuesday, October 15th: Holidays in Japan, the US, and Canada kept most major pairs within familiar levels, although the

| 14/10/2019 21:39

US Dollar Index technical analysis: DXY ends Monday in positive territories near 98.50 level

| 14/10/2019 21:13

AUD/USD trades around 0.6780 as focus shifts to RBA minutes

The AUD/USD pair gained traction in the second half of the previous week boosted by the optimism surrounding the United States (US)-China trade talks

| 14/10/2019 20:02

AUD/JPY holding above 21 4-hour moving average, although trade-war angst weighs

AUD/JPY has corrected from the 21 4-hour moving average with AUD/USD firming in London's afternoon in a short squeeze from the lows. AUD/JPY has trade

| 14/10/2019 19:53

WTi prices slide at the start of week on trade war angst, paring back last week's gains

US oil is struggling in a volatile geopolitical environment, stripping value in the price of a barrel over renewed concerns over energy demand. The US

| 14/10/2019 19:16

AUD/USD technical analysis: The Aussie recoups parts of daily losses, trading sub-0.6800 handle

| 14/10/2019 19:02

GBP/USD technical analysis: Cable off daily highs, trading below the 1.2600 handle

| 14/10/2019 18:33

GBP/USD short positions falling, although Brexit work still to be done

Net short GBP positions dropped back for a fourth consecutive week, although long GBP/USD is losing its appeal today having come off the highs for the

| 14/10/2019 18:24

Finnish PM: No time to find a Brexit agreement before EU Council meeting

Finnish Prime Minister Antti Rinne crossed the wires in the last minutes arguing that there is not enough time in a practical or a legal way to find a

| 14/10/2019 17:41

USD still the big long - ING

Commenting on the latest Commitments of Traders (COT) report published by the United States (US) Commodity Futures Trading Commission (CFTC), "The agg

| 14/10/2019 17:21

Gold technical analysis: Yellow metal starts the week trading below the 1,500 mark

Optimism on trade talks is improving the market mood and lessening the demand for the safe-haven metal. Gold is trading below the 1,500 psychological mark as t

| 14/10/2019 16:54

EUR/USD fluctuates in tight range above 1.10 ahead of Tuesday's key data

Boosted by the broad-based USD weakness seen on Thursday and Friday, the EUR/USD pair gained traction and closed the last week in the positive territo

| 14/10/2019 15:50

USD/JPY Technical analysis: Greenback hangs near two-months highs above the 108.00 handle

Little demand for the safe-haven yen keeps USD/JPY near two-months highs.

| 14/10/2019 16:06

USD/CAD stretches higher to 1.3230 area as crude oil prices continue to slide

Despite the subdued trading action on Monday amid the Columbus Day holiday in the United States (US) and the Thanksgiving Day holiday in Canada, the U

| 14/10/2019 15:01

US Retail Sales amongst market movers this week – Rabobank

Rabobank analysts point out that the week ahead will bring updates on US retail and industrial production and in the UK labour, CPI inflation and reta

| 14/10/2019 15:50

India: Transitory uptick in inflation – ANZ

ANZ analysts note that India's headline CPI rose to a 14-month high in September, sharper than even our non-conservative estimate. Key Quotes "The inc

| 14/10/2019 15:25

GBP/USD rallies back closer to session tops, further beyond 1.2600 handle

The GBP/USD pair rallied over 100 pips from the mid-European session swing lows and surged beyond the 1.2600 handle in the last hour, back closer to t

| 14/10/2019 15:19

GBP/USD technical analysis: Cable bounces from daily lows and challenges the 1.2600 handle

| 14/10/2019 13:58

EUR/USD remains on the defensive near 1.1000

The selling bias around the European currency stays well and sound so far on Monday, with EUR/USD navigating the low-1.10s amidst some moderate recove

| 14/10/2019 14:55
Show More Popular News
RISK WARNING
The information provided herein is for general informational and educational purposes only. It is not intended and should not be construed to constitute advice.
If such information is acted upon by you then this should be solely at your discretion and GKFX will not be held accountable in any way.
ForexF
IndicesI
CommoditiesC